Gutter Cleaning is a Dangerous Task, Leave it to the Pro's
Gutter Cleaning Spokane
Why Gutter Cleaning is so Important
As an understood rule about gutters, their job is to ensure that excess water, such as from a rainstorm, is carried away from your roof and the foundation of your home. From there, the excess water finds it way back to the soil or perhaps a nearby storm drain. It would be difficult for this to happen if your gutters are encumbered with debris, the nesting twigs of birds or some other cluttering item. Since this particular article focuses on gutter cleaning in spokane Wa, cleaning your gutters are especially critical for the area.
The reason for this is that Spokane is located in a humid area of the Northwestern United States. The average rainfall for the area is just under 17 inches.Much of the rain or ice occurs around December, or somewhere close to the end of the calendar year. You can easily see how tragic it would be for your gutters to be full of junk when the gushing rains come.
In addition, failure to keep the gutters cleaned out will result in them rotting out rusting or even destroying your roof if backed up. The longevity of your gutters will be reduced significantly because of it.
Free No Hassle Estimate – (509) 954-9152
Prevent Backup
To Prevent Gutter Backup
Most homeowners do not realize just how important their gutter drains are. If routine gutter cleaning isn't done, over time they can build up with not only water and dirt, but also a lot of leaves, twigs and other debris that washes through them. This can oftentimes cause the water to backup into the roof or eaves and cause a lot of rot in the wood there. This may also make its way into the walls and cause decay in the walls and ceilings as well.  This proves the importance of gutter cleaning. When the gutters are clogged up, water backs up, and rotting can occur to your roof, siding, gutters and more. Award Winning Company – If you need your gutters washed out A Pane in the Glass takes the necessary steps to ensure it's done in a professional manner.
Prevent Damages
Gutter Cleaning prevent Damages
When a gutter is overly full of heavy debris from not being cleaned, over time it can weigh down so much that it partially detaches from the house. Not only is this unsightly in itself, but it can also cause damage to the paint or to the wood on the outside of your home when its nails come loose. Swinging gutters may also blow into windows, causing damage there as well.
Prevent Pests
Gutter Cleaning will Prevent Pests
When water has leaked into inappropriate places due to clogged gutters, it causes a lot of moisture to set in. Damp and dark places are the perfect habitat for a lot of different pests to develop. Spokane has a lot of little critters which include a variety of bugs, from mosquitoes to termites, which can cause a lot of underlying problems themselves. It is not unheard of for squirrels to also build their nests into the softening wood.
Prevent Mold
Gutter Cleaning will Prevent Mold
If Gutters aren't cleaned and back up, this can cause flooding.  When water drips into the ceiling and walls, and even the roof, it can cause various types of mold. All of that backed up water is not usually clean water either, some having sat in the gutter pipes for awhile. This not only causes an odor but may require that you replace entire areas of your ceiling or flooring.  CDA Gutter cleaning and other Spokane areas. As you can see, it is absolutely vital to invest in having your Spokane gutters cleaned in order to keep them maintained. Not only does it help the exterior of your home look nice and stay well maintained, but it also helps prevent your interior from getting moldy or drawing in unwanted critters.
Why have your Gutters Cleaned Twice a year?
When it comes to Gutter Cleaning, not a lot of homeowners remember to have their gutter drains cleaned. What people don't realize is that without gutter cleaning, you may end up with a huge mess and a lot of damage on your hands. It is actually recommended that you have your gutters cleaned a minimum of once a year, and if possible, at least twice yearly. Here are some of the most important reasons to hire a gutter cleaning company.
How often should I clean my gutters?  Due to the frequent rain in spokane gutter cleaning needs to be done on a regular basis (Recommended at least twice a year in the spring and fall)   The first time around April or May, and the second time, perhaps in October or November. Whether or not you subscribe to those specific times, making sure that you clean the gutters twice a year is the prime thing to be concerned about. Keep in mind, however, that you don't want to have to deal with a lot of wet leaves and pine needles which are heavier and messier to try to clean out.

Extremely Satisfied Customers
Free Over the Phone Estimate – (509) 954-9152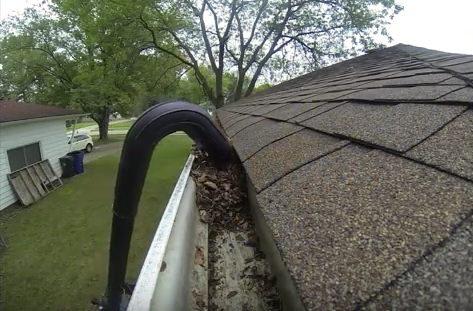 Why Should I have them Cleaned?
You may ask yourself "Why should I clean my gutters"  regularly. As noted, you already add to the longevity of your gutters. Besides that, you avoid mold, mildew and rust overtaking your gutters, increasing the aesthetic complement gutters add to your home. Keeping the gutters cleaned also adds to the integrity of your roof, keeping ponding water away from your housetop, and eroding water away from your home's foundation. A Pane in the Glass is a professional contractor in the Spokane, Washington area who cleans gutters and windows.
Learn More
Spokane Gutter Cleaning Reputation
We have earned a reputation for gutter cleaning in spokane valley Wa, a reputation for not leaving mess or slush behind when the work is finished. The company earned its reputation by ensuring the manual removal of debris and other clutter. They use pails to secure the unwanted slush in your gutters, transferring over to a garbage bag before disposal.  They make certain that no residue is left behind on your windows or sidewalk.  We also offer gutter repair and gutter installation.  We also have packages available that include washing gutters out.
Learn More
Call one of our Representatives Today and See
what makes us one of Spokane's most Reputable Gutter Cleaning Company's!!
Contact us